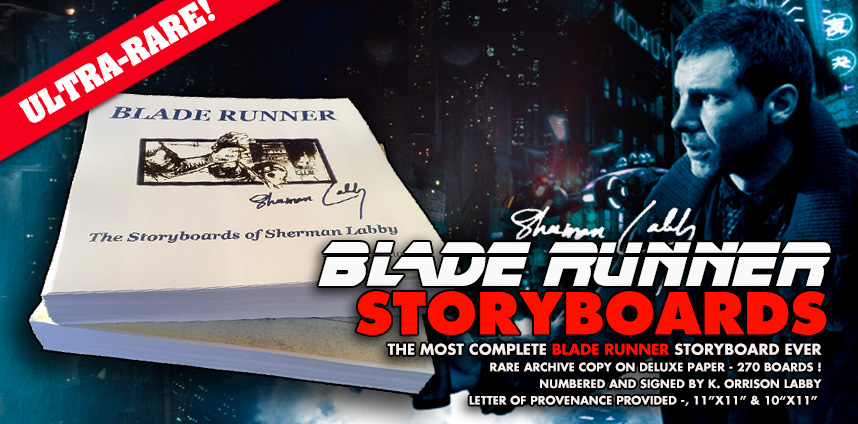 BLADE RUNNER AND SHERMAN LABBY :
Sherman Labby is one of the greatest American storyboard artists of our times. He worked as a production illustrator on many films, as Coppola's Dracula, Thelma and Louise, and Blade Runner.
Blade Runner is a 1982 American science fiction film directed by Ridley Scott and starring Harrison Ford, Rutger Hauer, and Sean Young. The screenplay, written by Hampton Fancherand David Peoples, is loosely based on the novel Do Androids Dream of Electric Sheep? by Philip K. Dick.
ABOUT THE DOCUMENT :
Directly from the estate of Sherman Labby, the production illustrator on the movie Blade Runner, comes this 270 pages pre-production Blade Runner storyboards! This document details scenes of the film with camera angles, descriptions for each shot and rendering of each set with the placement of actors. This is an extremely rare piece of movie memorabilia as this is believed to be the most complete set in existence from this movie.
Katherine Orrison-Labby : "This set is the highest-quality copy available, sourced from the blueprint archival masters of the most complete set of Sherman's Work done for Blade Runner (Sherman worked with Ridley Scott for over eleven months on the film).
A blue-line set sold for $14 000 years ago. At that time, nine copies were made to help defray Sherman's considerable medical costs. These new sets were made in similar fashion by the printers who knew and worked with Sherman and Archived his Work on other films (using older machine and dyes).
As the subject matter of Blade Runner deals with near-perfect facsimiles, this is the best "replicant" set available. Other set sold at auction by the Art Director, FX Supervisor and others are believed to be not as complete. This set includes some of the rougher production sketches as well as the usual consummate and visionary work for which Sherman was renowned."
The original storyboards were destroyed right after production, making this set especially rare. An incredible collection for any Blade Runner fan.
AUTHENTICITY GUARANTEED : the storyboard is provided with a letter of provenance numbered and signed by Katherine Orrison-Labby, widow of Sherman Labby.
VERY IMPORTANT : ALL RIGHT RESERVED. No Part of this set may be reproduced, distributed, or transmitted in any forms or by any means, including photocopiying or other electronic or mechanical methods, without prior written permission of the publisher. For Personal Use ONLY.