Storage of Movie Posters
A little precaution and common sense are sufficient to preserve your collectible documents.
Handling precautions of a vintage movie poster
First of all, handle your poster with care, clean hands and on a unsoiled work surface. Indeed, the unmeant folds, stains and tears can deteriorate the beauty and the value of your collectible.
Classic errors: put a drink, food or an ashtray on you work surface; unfold a poster on the floor without verifying its cleanness… The most meticulous would use white cotton gloves, but be careful, it would diminish your dexterity.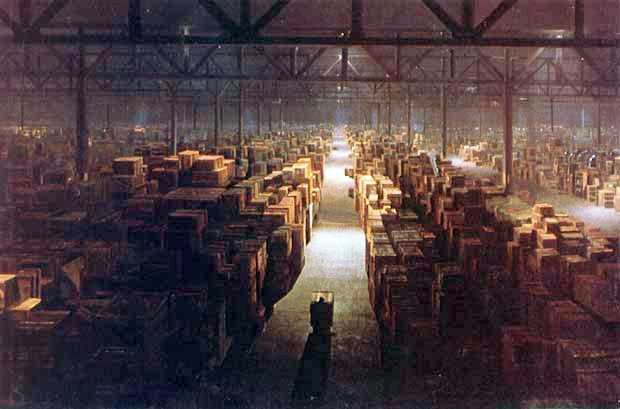 Before Storing
Make sure that your poster is clean and cleared of all impurities (tapes, dirt, insect, unidentified substance…) that would deteriorate your document during storage. Be careful: if the removal of the tape (for example) is risky, let it be. If it is a valuable document, better bring it to a professional restorer.
Important: if the document smells musty, without visible stains, you can keep it in a well-ventilated room until the smell disappears, and then isolate the document in an envelope. In case of visible musty stains, isolate the document in a plastic envelope and contact a professional restorer rapidly.
Linen backing
The ideal way to store paper media, and therefore movie posters, is linen backing. The process consists of laminating the poster on a canvas (with an interlayer paper), which can then be framed, stretched on a frame, or simply fixed to the wall using nails.
The cover is often an opportunity to clean and sometimes restore the poster, for example to reduce fold marks, repair tears or even replace missing parts, the goal being to get as close as possible to the poster's original condition.
Note that these techniques have a significant cost, which depends on the format, the condition of the poster, as well as the talent and reputation of the craftsman requested. Count for example 150 € minimum for the simple linen backing of a French poster of 120x160cm format. Thus only valuable posters generally benefit from a linen backing. Also note that a good linen backing must be reversible and have margins.
To go further, also discover our selection of beautiful linenbacked movie posters.
Storing area and packaging of vintage movie posters
Storing or display should be done in a clean, cool and dry area, protected from direct sunlight. If possible, it should also be raised from ground in order to limit the damages in case of flood.
Indeed, major factors of paper deterioration are: humidity, heat, light and the attack of acids contained in paper, ink and packaging.
In case of long storing, it is recommended to use acid free separators between your documents, for example acid free dividers. The best solution is to use acid free envelops (paper or plastic). This kind of products can be easily found on internet, or in artist furniture stores, framing stores, and restoring stores. The "acid free" statement must be clearly specified.
In case of long storing, the paper or plastic envelopes often delivered by studios with lobby cards and press stills should be stored separately, because their acids could deteriorate the stills.
Storing posters: folded, flat or rolled?
Among movie collectible documents, movie posters are specifically concerned by this question, because their size and suppleness allow them to be rolled. Indeed, a hardback lobby card can only be stored flat, for example in a file or framed.
==> Flat storage
The ideal method, but it requires a significant storage area. Protect you documents from dirt and acids with an acid free container.
==> Rolled storage
Like flat storing, this method presents the advantage of not deteriorating posters. Moreover, it requires a small storage area. Several documents could be rolled together (with acid-free dividers in case of long storage), then rolled in an acid-free plastic, and finally put in a rigid tube.
==> Folded storage
Folded storage is very practical. It requires small space, and can be done in many containers: a box, a file, a cupboard…
The major inconvenient is that folds create weakness in the document. With time, the fold lines could break the ink, causing a faint white line, and acids can attack these weak areas, creating creases. Numerous unfolding, heavy weight on your poster, and acid environment increase these effects.
However, folded storage is very common among collectors, which is fine under proper conditions previously described.
Important: of course, the folded storage only concerns already folded documents. It is not recommended to voluntarily fold an unfolded poster, knowing that you will create weakness in the paper, and decrease its value.
Knowing all that, you can now decide how to preserve and store you movie posters.
We hope that this page was usefull. Please feel free to contact us for further information.
Best Regards
Mauvais Genres.