More info
Blade Runner is a 1982 science fiction cult movie, directed by Ridley Scott, and starring Harrison Ford, Rutger Hauer, Sean Young, Edward James Olmos and Darryl Hannah. The screenplay, written by Hampton Fancherand David Peoples, is loosely based on the 1966 novel Do Androids Dream of Electric Sheep? by Philip K. Dick. It depicts a neo-noir future where human-like androids are used for main space work. They became illegal on Earth after a spectacular mutiny, but some of them succed to infiltrate the city of Los Angeles. Rick Deckard is the Blade Runner in charge to eliminate them.
Ridley Scott regards Blade Runner as "probably" his most complete and personal film.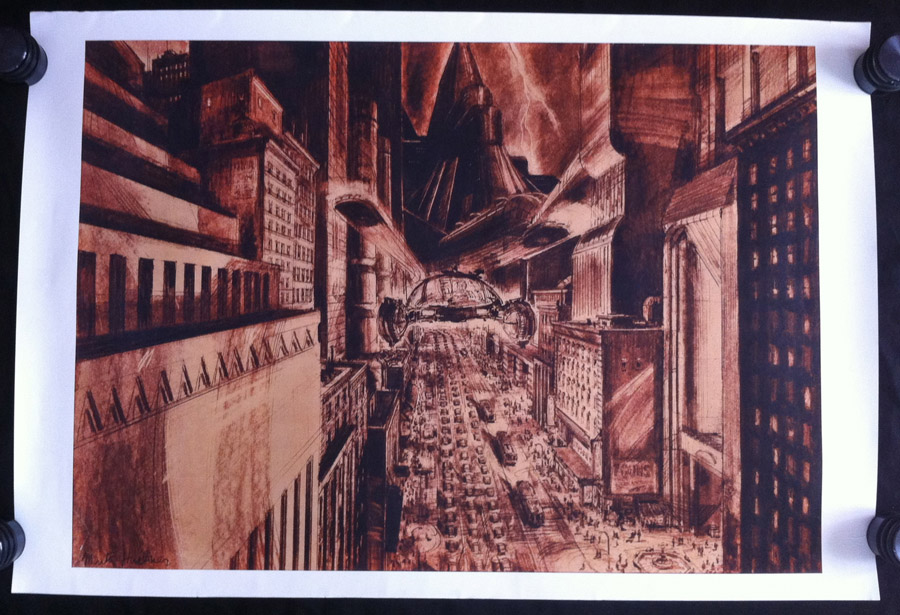 IMPORTANT : Direct from the estate of Sherman Labby, the production illustrator on the movie Blade Runner, comes this incredible Artwork from Mentor Huebner who worked with Labby during Blade Runner pre-production. This is a UNIQUE Hi-Res DeLuxe Print of a Blade Runner's conceptual drawing. It has been given by the designer Mentor Huebner to his friend Sherman Labby, the other story-boarder of the movie. Printed on 200/250g Archival Paper, wonderful details and colors. Measures 40,5"x30" !
Condition: Excellent ! see pictures. a very little fold on the lower right of the drawing.