Men in Black II (MIIB) is a 2002 science fiction movie directed by Barry Sonnenfeld and starring Will Smith (Agent J) and Tommy Lee Jones (Agent K). They both are Men in Black, meaning top secret agents that monitor and regulate secret extraterrestrial activity on Earth. From time to time, they have to use their "Neurolyser" in order to erase some disturbing memories from common people's mind.... (photo from the movie below:)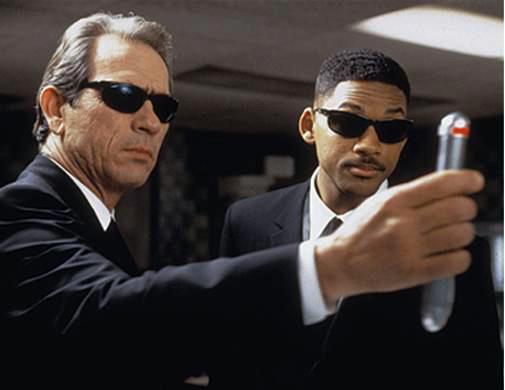 Mauvais-genres.com presents an exact replica of this famous movie prop.
IMPORTANT : The Neuralyzer prop replica was created by Factory after exhaustive and careful study of the original props to ensure maximum authenticity. Sony Pictures kindly lent Factory several of the surviving original prop from their archive so that they could be carefully studied, scanned and measured.
For this Limited Edition, Factory has chosen to create a replica of the Neuralyzer prop seen in MIB II.
This version was selected because it has a consistent look throughout the film.
This replica includes all the accurate details and features as seen on the original prop, as well as a number of added functions and features that were seen on screen, but were not actually part of any physical prop. They were instead either added in post-production or with additional equipment and special effects.
This has allowed Factory to create a self-contained replica that is faithful to the functions seen on screen without compromising accuracy.
Factory has crafted this stunning piece from high quality materials and used digitally enhanced audio and sound taken directly from the original studio audio track for additional clarity.
To allow you to display this item to maximum effect, each replica includes a high quality display base, acrylic stand and acrylic cover.
Also included are a detailed prop story booklet, certificate of authenticity and set of instructions.
As part of an edition of just 1500 pieces worldwide each Limited Edition Neuralyzer prop replica includes a numbered plaque that details its edition number, provenance and authenticity.
Each Neuralyzer replica is supplied boxed in Men In Black presentation packaging suitable for archival or display, which is protected and contained within a sealed outer brown shipping carton.

FREE SHIPPING !!